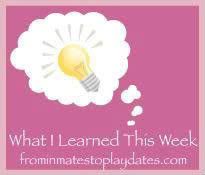 We have been so busy with baseball and scouts, we've barely had time to breathe up in here – which also explains why I haven't been blogging much, lately.
After picking the kids up from school, doing homework, getting dinner ready, and then spending three hours each evening at the ball field, I usually just come home, tidy up, and hit the sack. While I used to stay up crazy late, I've been reading up on how to lead a healthier lifestyle and everything I read says SLEEP IS IMPORTANT to weight loss, so, yes, sign me up!
In other news, and I hate to even type these words, snow is forecasted for tomorrow. I won't even tell you how I feel about that. Instead, let's just skip to what I learned this week…
1. I have 14 friends named "Amy" on Facebook.
2. I have 19 friends named "Jennifer" on Facebook.
3. Our local Krispy Kreme gives students (up to 6th grade) one free donut for every "A" on their report card.
4. There is such a thing as bow fishing – which, as you might guess, is the sport of fishing with a bow and arrow. (Crazy to think I am 40 years old and am only learned of that this week.)
5. The King Cobra is the world's longest venomous snake.
6. The FitBit is a pretty cool little weight-loss tool.
7. Stevie answered more Jeopardy questions tonight than I did.
8. It is difficult for me to eat without dropping food all over my shirt. In fact, I have so many different stains on my shirt, McDaddy told me this evening that I need a bib.
9. If a food has more than five ingredients listed, you should not eat it. OUCH!
10. It is possible to order carpet one day and have it installed the next.
11. Fresh carpet smell makes me smile.
12. There are few things I like more than NOT having to set an alarm clock.
13. According to Alex, he now sees better without his glasses.
14. When a frog jumps within an inch of my toes, I scream like a crazy person.
15. The white dots on dice and dominoes are called pips.
That's what I learned this week.
Now, what did YOU learn?
To join in on the What I Learned This Week carnival, simply follow these steps.
1. Any time this week, publish your What I Learned This Week post on your blog and link to this post.
2. Link up with the Mr. Linky form down below. Please put the link to your POST, not the front page of your blog.
3. Then visit the other participants and see what they learned this week.
Alrightythen. Ready, Set, GO!
{ 2 comments }