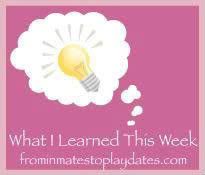 Here's what I learned this week:
1. Just because a grown adult knows better, that doesn't always mean they will do better even if they happen to be a grown adult leader†at cub scout camp teaching children about respect, honesty, compassion and responsibility.
2. That is a hard reality to accept.
3. A cold banana is actually pretty good.
4. I am capable of†messing up a "NO FAIL" recipe.
5. When trying a new dessert recipe, it's always a good idea to have a back-up plan in case things go awry in the kitchen.
6. The cashier at the grocery store has no concern about upending my Edwards Hershey Pie.
7. NEVER EVER GIVE UP ON YOUR DREAMS. EVER!
Now, what did you learn?
—-
For complete carnival rules, click here.
1. Any time this week, publish your What I Learned This Week post on your blog.
2. Within that post, please mention the What I Learned This Week carnival and link back to this post here at From Inmates To Playdates. If you donít know how to link, feel free to ask me.
3. Then link up with Mr. Linky down below.
4. Visit the other participants and see what they learned this week. Then leave a comment because comments are fun!