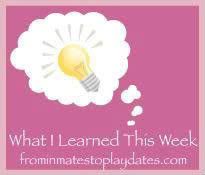 It's been one of those days. And it started last night.
Instead of prattling (I love that word!) on about nonsense, I'll just get right to what I learned this week and keep each point short and sweet. Though, for the record, I could easily prattle on.
1. The Internet is a wonderful thing. When used by a coward, however, to spew nasty comments about someone using a fake identity, it can also be an ugly thing.
2. I would rather watch The Olympics than any other show on my DVR Docket.
3. DO NOT EVER and I repeat, DO NOT EVER visit an out-of-town salon/shop to get your kids a haircut. Otherwise, you may end up in an argument with a shop owner (who can barely speak english) struggling to understand why your son's neck is covered in welts, wondering (with good reason) if the young lady who cut his hair even has a valid license.
4. When purchasing a data plan for ONE month on your iPad, you will need to go into SETTINGS and turn off the automatic data renewal purchase plan or else you will automatically be charged for another month in thirty days.
5. If AT&T records reflect that you've used more than 1MB of 250 MB of data, the customer service rep will tell you they cannot remove it from your bill because it is, in their words, "out of their hands." If you ask to speak with a supervisor however, she will tell you that the fee cannot be removed, but it can, however, be credited to your monthly cell-phone bill.
6. It will take you approximately 32 minutes to work your way through this situation over the telephone.
7. It takes me approximately 2 minutes to lose patience in a situation such as this one.
8. The old saying "What goes around, comes around" is one hundred percent true. Eventually.
9.Watching two weeks of Olympic swimming will cause your boys to have 100 meter relays in the hotel pool where they announce themselves as Michael Phelps and Ryan Lochte.
10. Having two kids who are crazy about the Olympics makes me smile.
11. A six year-old boy can have just as many opinions on fashion as a girl can. I should know.
That's what I learned.
Now, what did YOU learn?
You can read a crazy long detailed version of the rules here, or simply follow these easy steps.
1. Any time this week, publish your What I Learned This Week post on your blog.
2. Within that post, please mention the What I Learned This Week carnival and link back to this post here at From Inmates To Playdates. If you don't know how to link, please ask me.
3. Then link up with Mr. Linky down below.
4. Visit the other participants and see what they learned this week. If you have the time, leave a comment to say hi so that we can all get to know each other.