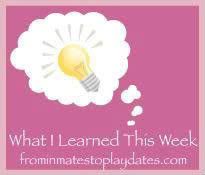 Here's what I learned this week:
1. It is never a good idea to put on lipliner while in a semi-dark garage. Unless, of course, you don't mind wearing eyeliner on your lips.
2. Three large squash will cause the "fasten seatbelt" alarm to continually ding.
3. Three large squash will stink your car up.
4. If you have healthy kids, you have EVERYTHING.
5. A decorative water fountain will need to be cleaned out weekly. Danggit.
6. For some unknown reason, there is a ton of stray hairs under the keys on my laptop.
7.  After sleeping in all summer, 6:40 AM comes WAY TOO early.
Now, what did YOU learn this week?
—–
For complete carnival rules, click here.
1. Any time this week, publish your What I Learned This Week post on your blog.
2. Within that post, please mention the What I Learned This Week carnival and link back to this post here at From Inmates To Playdates. If you don't know how to link, feel free to ask me.
3. Then link up with Mr. Linky down below.
4. Visit the other participants and see what they learned this week. Then leave a comment because comments are fun!