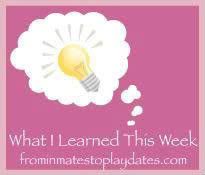 I have run non-stop all day long. It was a beautiful day and I enjoyed being out and about in the SKY. It is so fun to drive and I feel blessed to have it. I am more comfortable with the clutch and I have finally (after three months) mastered backing down into our steep driveway without having a panic attack.
I would love to be able to say that my nose is behaving. But alas, it is not. I have used two boxes of tissues in four days and my nose is raw and sore. Not to mention I am tired of blowing my nose over and over and over. It's maddening.
But, enough about my slimy, snotty nose. Let's move on to What I Learned This Week…
1. Parents who allow their children to act like straight-up brats without the slightest bit of discipline or consequence disgust me. They really need to be woke the heck up or else they will be visiting their children in C-Pod someday. I should know, I dealt with plenty of adult brats during my time in jail.
2. Our neighborhood might not be as safe as I once thought.
3. Playing baseball is about so much more than a bat and a ball.
4. Abraham Lincoln tied Lyndon B. Johnson as the tallest President at 6 ft. 4 inches.
5. Six year-olds ask the most interesting questions.
6. Quahogs is an official word on the Words With Friends.
7. A quahog is a clam.
8. It is impossible to keep this house neat and orderly for more than 24 hours.
9. Before trying a Pinterest project, you might want to pay close attention to the pictures.
10. I will NEVER EVER again so long as I live use an oil-based primer.
Now, what did YOU learn this week?
—–
1. Any time this week, publish your What I Learned This Week post on your blog.

2. Within that post, please mention the What I Learned This Week carnival and link to this post.
3. Then link up with the Mr. Linky form down below.
4. Please only link if you have written a What I Learned This Week post. And please link directly to the carnival post, not the main page of your blog.
5. Go forth, read, learn, and comment, because comments are fun!