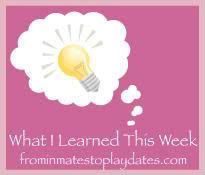 Guess what time it is?
Yup, you guessed it!
It's time for another wonderfully, educational edition of What I Learned This Week. Except, you may not learn anything of substance.
Look, all I know is that I've had a hard day.
I'm at the point in life where my parents are aging, and medical things are happening. And this week will likely be a tough one for my family. Would you pray for us, please? I don't want to go into detail, because the details are not mine to share, but I'd sure appreciate your thoughts and prayers.
Here's what I learned this week.
1.  The worst possible place to be on a 95-degree day is driving behind a trash truck.
2. Trypophobia is the fear of objects with irregular patterns of holes, such as beehives, ant hills and lotus seed heads.
3. If you are the least bit squeamish, you should not, under any circumstance google images for trypophobia.
4. I am not particularly picky about pizza, however, bacon on pizza is nasty.
5. Sitting on the front row during a movie is an aggravation. Especially when Channing Tatum is the star.
6. The dye that is injected into your body before a CT Scan will make you think you have peed all over yourself.
7. If you have an ear ache, and you are sure your eardrum is intact, you could pour a capful of peroxide into your ear, leave it for five minutes, then turn your head so that the peroxide runs out.
8. When a Doctor is operating on two women by the name of Betty, back-to-back, he should probably call the family by last name when coming out to talk to them, or he may tell the wrong family the wrong information.
That's what I learned this week.
Now, what did YOU learn?
To join in on the What I Learned This Week carnival, simply follow these steps.
1. Any time this week, publish your What I Learned This Week post on your blog and link to this post.
2. Link up with the Mr. Linky form down below. Please put the link to your POST, not the front page of your blog.
3. Then visit the other participants and see what they learned this week.
Easy enough?
GO!