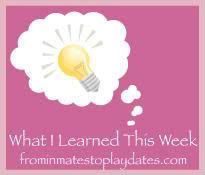 Dancing With The Stars is back on.
And that means that on Monday nights I'll be sitting right here on my big, blue, bloggy couch cheering for Val Chmerkovskiy and Sadie Robertson.
And probably Derek Hough.
Oh, and I'll also be belly aching because my beloved Maks Chmerkovskiy has decided to hang up his dancing shoes, and I will miss him terribly because THOSE ABS!
I miss them already.
But anyway, here's what I learned this week.
1. Apparently, there is a shortage of stars, as is evident from the 72-year old fashion "icon" currently paired with Tony Dovoliani.
I mean, REALLY in this whole big world of famous people, that's the best the producers could do?
2. The only thing worse than wading through tall grass, is wading through tall grass full of bugs.
3. Spray painting has become my newest hobby.
4. I feel so much better when my house is tidy.
5. I feel so much better when I eat healthy.
6. Oh Lawdy. And now a 76 year old on DWTS. Poor Peta. Pimps in my crib.
*insert eye roll here*
7. It is impossible to eat just one Mike & Ike
8. OH SHUCKS. Alfonso Ribeiro can DANCE.
9. It costs the U.S. Mint 11.18 cents to make a nickel and only 5.65 cents to make a dime.
10. The average life of a $1 bill is less than six years.
That's what I learned this week.
Now, what did YOU learn?
To join in on the What I Learned This Week carnival, simply follow these steps.
1. Any time this week, publish your What I Learned This Week post on your blog and link to this post.
2. Link up with the Mr. Linky form down below. Please put the link to your POST, not the front page of your blog.
3. Then visit the other participants and see what they learned this week.
Easy enough?
GO!