After running errands earlier this evening, McDaddy, the boys and I stopped for dinner at Bob Evans. Did you know they offer a free kid's meal for every adult meal purchased in July? (And no, before you ask, this is not a sponsored post.)  Anyway, dinner. At Bob Evans. When the waitress came over to take our drink order, she said five words that left me in shock.
We.
Are.
Out.
Of.
Coke.
Seriously, how can we as a nation put a man on the moon, yet, allow ourselves to get to a point where we run out of coke.
In forty years on this earth, I don't think I've ever experienced an emergency situation like this one in a restaurant.
As it turns out, this particular Bob Evans was also FRESH OUT OF baked potatoes, macaroni and cheese, ice cream, mashed potatoes, sweet potatoes, chocolate chips, bananas, and the COKE.
Ya'll, that is A LOT of food for one Bob Evans to be out of. I'm thinking maybe there might be a management position open at the Bob Evans on Alex Lane today.
I love Pinterest.
What? My mind hops around like a jack rabbit.
And by I love Pinterest, I mean I triple puffy heart type of love.
A couple of weeks ago, I found a recipe over there that I just have to share.
As you will recall, I have  three requirements for any recipe I share here on the blog:
(Though if I'm being honest, the words fail and proof are laughable when you consider that I once burnt a cup of instant macaroni and cheese in the microwave because I forgot to add the water.)
Here are the short cast of characters.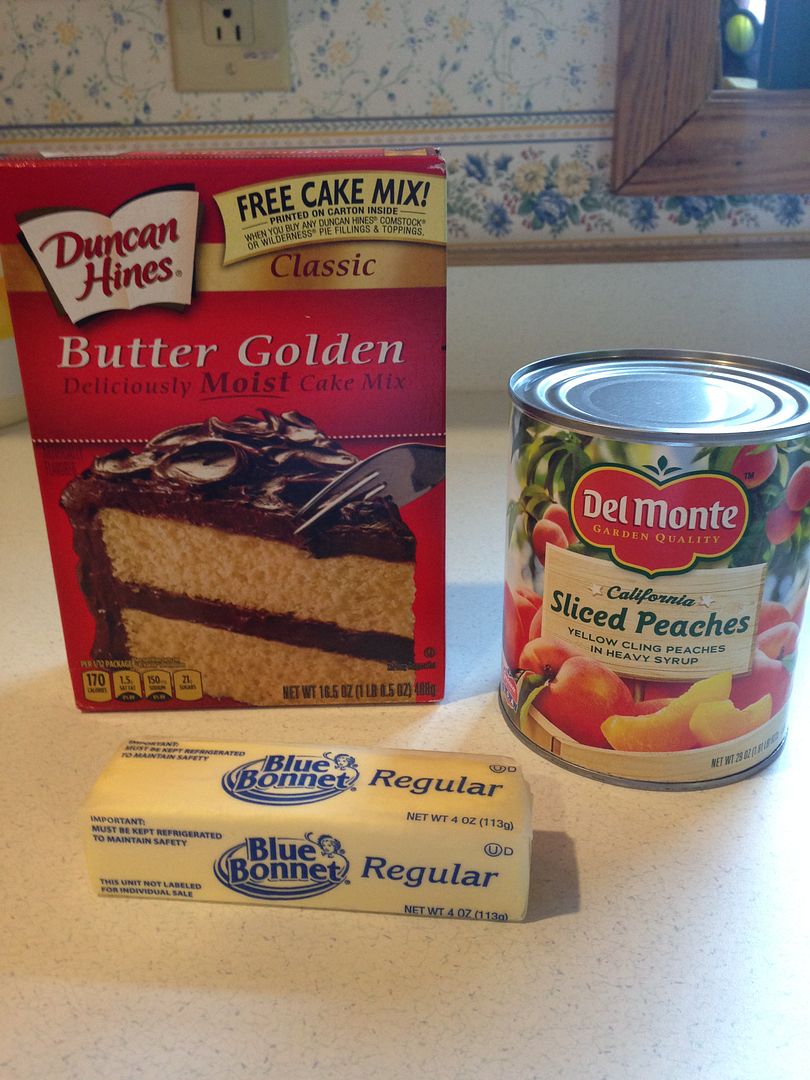 PEACH COBBLER CRISP

INGREDIENTS:

1 large can of peaches*
1 Yellow cake mix
1 stick of butter

DIRECTIONS:

Preheat the Oven to 350 degrees.

In a 9×13 backing pan, dump the peaches and the juice.
Sprinkle the cake mix evenly over the peaches.
Melt the stick of butter and pour it evenly over the cake mix.
Place in the oven and bake for 30-35 minutes or until it is bubbly.

*You may also substitute pears, apples, cherries OR fruit pie filling.
See how easy that is?
Dump peaches and juice into your 9×13 baking pan. (You don't even dirty a bowl) If you are not a fan of big chunks of fruit, you could cut your peaches in half.
Pour the cake mix over the peaches.
If your OCD is offended by the cake mess, use a fork to spread the cake evenly amongst its peach friends.
Next, melt a stick of butter of pour it evenly over the cake mix.
Now, just imagine a great picture of a crispy piece of peach cobbler fresh out of the oven.
Unfortunately, I forgot to take that particular picture.
Like I said, easy, quick and fail-proof.